Welcome to GOODCon LA.

GOODCons are our global festivals hosted throughout the year celebrating the most inspiring purpose-led ideas and innovations from around the world.
Our Purpose: To Fill the Hope Gap
We believe a lack of hope exists on social and environmental issues across the spectrum. There is a continued focus on the world's problems and the polarizations that divide us, leading to paralysis and inaction.
Meet the Solutionaries!
At GOODCon LA, will shine a beautiful light on the people who give us hope - the Solutionaries.
Solutionaries are the courageous souls creating system-level solutions to the biggest problems facing life on our planet.
Cyrill Gutsch, Parley for the Oceans: "Saving our Oceans"

Josie Naughton, Choose Love: "Helping solve the refugee crisis"

Dr Lisa Dyson, Air Protein: "Developing meat alternatives out of thin air"

James Arthur Smith, Seatopia: "Sustainable aqaculture to feed the world"

Romola Ratnam, Endeavor: "Inclusion in Hollywood"

Galiano Tiramani, Boxabl: "Solving affordable housing"

Fanshen Cox, Pearl Street Films: "Expanding the Inclusion Rider to other industries"

Taras Kravtchouk, Tarform: "The future of electric transport"

Ciara Dilley, PepsiCo: "Empowering female founders"
Get inspired by some of the most passionate and purpose-driven people in business and culture and learn how to implement innovative, creative actions to lead to impactful social change.
See the full speaker lineup here.
Get your ticket now to join us and watch all content – live and on-demand!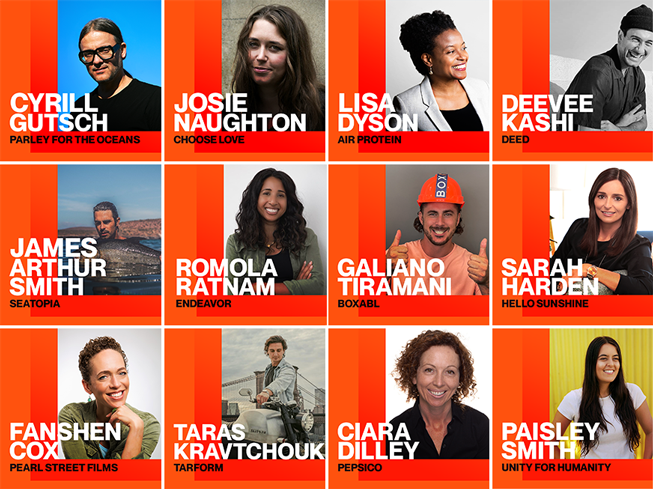 Watch GOODCon LA and get access to a full year of content!
Watch the event live or on-demand!
7 live sessions and discussions you can take part in;

11 additional talks fresh out of our exclusive invite-only GOODCon event held on December 6 in LA.
By registering for GOODCon LA for just $29, you will get one-year access to:
more than 80 talks from leading brands at previous GOODCon events;

quarterly GOODCon conferences streamed online;

community access with periodic live streams and discussions, members-only merch drops and discounts;

and more coming along in 2022!